PROFILE | BRANDS | Norman Hilton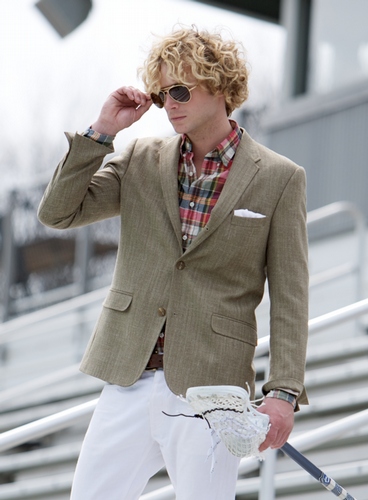 I've said it before and I'll say it again... preppy brands reflect quality, heritage, classic styling and so on. Thus there is nothing preppier than small-scale clothiers with an historic reputation for dressing preps in the finest finery. This is what encouraged my recent purchase of a linen jacket from
Norman Hilton.
This is a brand with a long and illustrious history dating back to the latter part of the 19th century. Under the stewardship of Joseph Hilton (father to Norman), the business was a revered clothier to the gentlemen of New York society until the 1940s when Norman took over. A graduate of Princeton and Harvard Business School, Norman Hilton had a keen understanding of the Ivy League look so popular at the time and sought to expand his father's business into a nationwide enterprise.
The brand flourished and every fine menswear supplier sought to stock Norman Hilton apparel as this distinguished them as purveyors of the highsest quality fashions. This reputation continued to grow until the 1960s when fashion, and indeed mainstream culture, underwent a paradigm shift. Recognising that the Ivy League style would no longer be in demand to the extent that it had been, Norman Hilton scaled back production with a view to servicing their diminished but loyal customer base. At around the same time the company became aware of a prodigious young fashion designer who had been creating wonderful ties with a company named Beau Brummell. Norman Hilton sought to bring this young man into their organisation to assist with the design of their menswear range and to take advantage of new trends within the menswear sector. That young fashion designer was none other than
Ralph Lauren
.
Deservedly so, Norman Hilton is again being whispered in the hallowed halls of the finest men's fashion magazines as a resurgence in popularity for their fine tailoring at affordable prices begins. Their tweed jackets being particularly popular, I would recommend you check out Norman Hilton.